Choosing the Right Lawyer is Hard
Trying to figure out which law firm to hire is hard. Let's face it – attorneys in general don't have the best reputation. In a study conducted by the American Bar Association a few years back, results showed (not surprisingly) that there were many negative perceptions about lawyers, including beliefs that lawyers are often greedy, manipulative, dishonest and corrupt. Last year a Gallop Poll was conducted on how people rate honesty and ethical standards of people in different professions. Lawyers ranked near the bottom: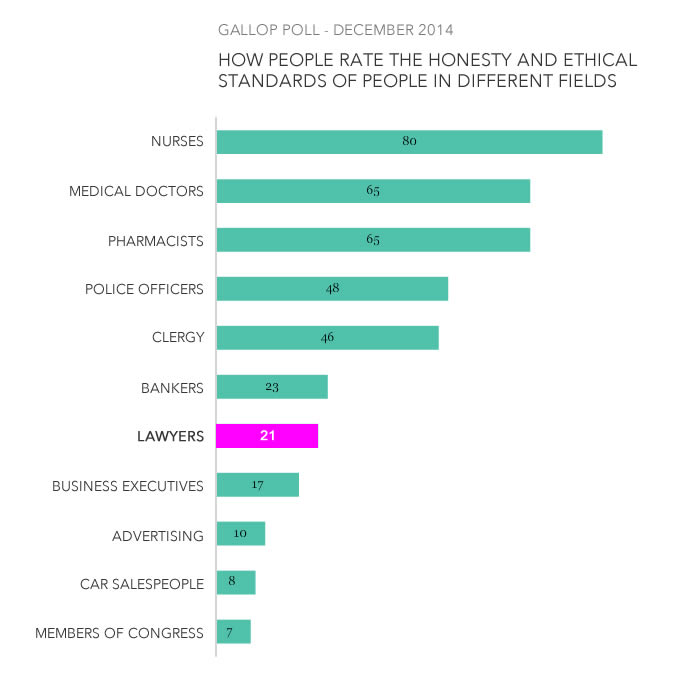 No doubt there are bad attorneys out there that have led the general population to have this perception but that doesn't mean there aren't good lawyers out there. There are some amazing ones out there. You just have to know how to find the good ones.  After all, choosing a lawyer can be one of the most important decisions of your life.
So how can you find a good lawyer? Here are a few ways: 
1. Online Reviews
Sites that offer reviews of law firms can be a great source of information and can often help you weed out lawyers you don't want to hire. Don't eliminate attorneys with one bad review if there are multiple positive reviews as well. There are no businesses out there that can please every customer/client. At the same time, don't fall prey to a law firm that only has positive reviews as that can be a sign that fake reviews were created. Sites like Avvo and Yelp can often weed through the fake reviews (although even those can be gamed). We believe in the power of reviews and that's why we try to ensure that the reviews submitted are authentic.
2. Lawyer Referral Services
These may also be a good source of information, though there is great variation in the quality of such services. Though the lawyers listed on them are required to be state bar association approved, other qualifications for being listed vary widely. For example, some only require that an attorney be in good standing with the state bar and carry liability insurance to be listed, while others will more carefully screen and list those with certain qualifications and experience. While there are certainly other sources available (the local Chamber of Commerce, for example), the only way to know who the lawyer is and whether he or she is the right one for you is to meet personally and go from there.
3. Local Bar Associations
Local bar associations can often help you find the right lawyer to match your situation. While they can be helpful, they don't always find you the best lawyers however.
4. Personal Referrals
When seeking personal referrals, try and speak with people who have had similar legal issues.  For example if you have a friend who hired a divorce attorney and you have a family law issue, find out what they liked or did not like about the lawyer they hired. Don't stop there, though; also ask about whether the attorney would be a good fit for you personally. In other words, one size does not fit all. Be sure to meet the lawyer before you make a decision about hiring. We each have unique personality types, preferences, and different styles of problem solving; until you have met, it will be difficult to determine whether you will be truly comfortable working with him or her.
5. Online Directories
Online directories like Findlaw, Lawyers.com, and Avvo can also be good sources to find a lawyer. However, most lawyer directories will list all lawyers, regardless of their skills or qualifications. They are not screened like the lawyers listed in law.yers.io lawyer directory so just make sure to spend time visiting the attorneys website and looking for past case results. Nothing is a better indicator of the quality of a lawyer then their past results.
6. Attorney websites
Find out more about a lawyer by visiting their website and looking for videos, testimonials and past case results. When doing online research, look at multiple law firms before deciding who to call. It's important to talk to multiple attorneys to see if you like their personality and if you think they are a good fit for you.
Here are a few other things to consider when researching a potential lawyer:
Area of Specialty – Finding a lawyer who specializes in your particular area of need is important. For example, someone specializing in corporate law isn't who you need in a divorce situation. Laws can be extremely complex, so having someone with the up to date information and expertise you need could save you money in the long run. 
Personality – Personal chemistry between you and your lawyer is important, so be sure to take the time to sit down and make sure you feel comfortable with the person you decide to allow to represent you in legal matters. While no relationship is perfect, it is vital that you are compatible, are able to communicate, and have confidence in the person you choose as your attorney. 
Willingness – Is this person accessible to you? Willing to answer your questions in language you understand? Do you feel he or she is taking a genuine interest in your case? While attorneys are great sources of information, it only helps if you have access to it – and to them.
Communication and Promptness – It is best to ask up front what the attorney's policy is when it comes to communication. Some will have their office staff return calls for them. Others may return calls themselves but not do so for extended periods of time. Be realistic and decide ahead of time what is acceptable to you and your attorney. Waiting for days or weeks to get a question answered can be maddening, to say the least.
Which attorney will handle your case? – It's important to find out who will be handling your case for you. Will it be the attorney you are talking to? Will it be a younger associate attorney? Will they refer your case out to another firm? It's important to find out which attorney will actually be handling your case.
Costs involved – It's important to find out what kind of costs are going to be involved. Is your case billed on contingency? Is it a flat fee? An hourly fee? This is an important part of choosing a lawyer although it's important to remember that you often pay for what you get so don't be attracted to the lowest cost.
Additionally, you may be looking at a very long term process when it comes to resolving your legal issues. Discussing such things ahead of time with a potential lawyer may save you pain and frustration as you wait for the all too often slow wheels of justice to turn on your behalf. While your lawyer may understand this process, having one who does not communicate this to you – or communicate very well with you at all – can be extremely frustrating.